fees
FEE STRUCTURE - MBBS 2020-21
Sr.No.

HEAD

AMOUNT (IN RUPEES)

01

TUITION FEE

16,39000/- PER YEAR

02

HOSTEL FEE

1. Rs. 250000/- per year

(AC Double seated with fooding)

2. Rs. 150000/- per year

(Non AC Double seated with fooding)

03

*CAUTION MONEY
(Refundable After The Completion Of Course)

300000/- ONE TIME
Sr.No

Cheque

Date

Amount

01

Ist

30.06.2021 (1½ Year)

30.06.2021 (1 Year)

2458500/- (Tuition Fee)

Hostel Fee

02

IInd

30.06.2022 (1 Year)

1639000/- (Tuition Fee) + Hostel Fee

03

IIIrd

30.06.2023 (1 Year)

1639000/- (Tuition Fee) + Hostel Fee

04

IV

30.06.2024 (1 Year)

Hostel Fee

PG FEE STRUCTURE - MBBS 2020-21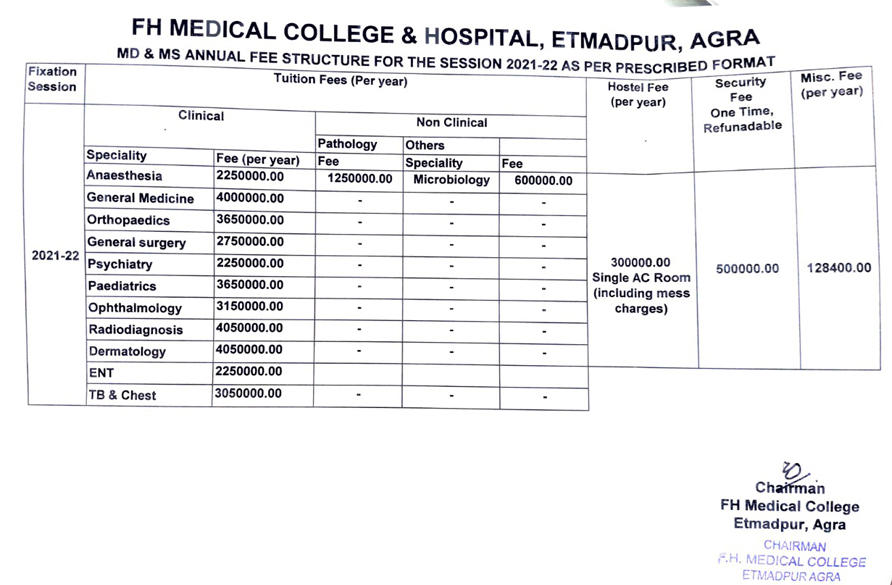 1. All the payments should be made by Demand Draft only.
2. All the demand draft will be payable at Agra
3. Four post dated account payee cheques in favour of FH Medical College, Agra as per details given above
4. All the payments should be made before 30th June every Year otherwise a fine of Rs. 1000/- per day will be charged.
5. Hostel will be compulsory for each student every year.
6. All the following documents with 3 zerox copies will be submitted at the time of reporting.

10th Marksheet & Certificate
12th Marksheet & Certificate
NEET 2020 Admit card & Score card
Allotment letter by DGME, UP
Migration, Transfer Certificate & Character Certificate
In case of a Gap between 10 + 2 examination & MBBS admission, an affidavit duly notarized on stamp paper of Rs. 10/-
10 Photographs
Caste certificate
Tuition fee submisstion slip at Nodal Centre.
Security Money (2.0L) Submission slip at Nodal Centre.
Aadhar Card (Students and parents)
2 Pass port size coloured photographs of parents & local guardian.
10 Envelopes with stamp of Rs. 42 each with full address and Pin code.
STIPEND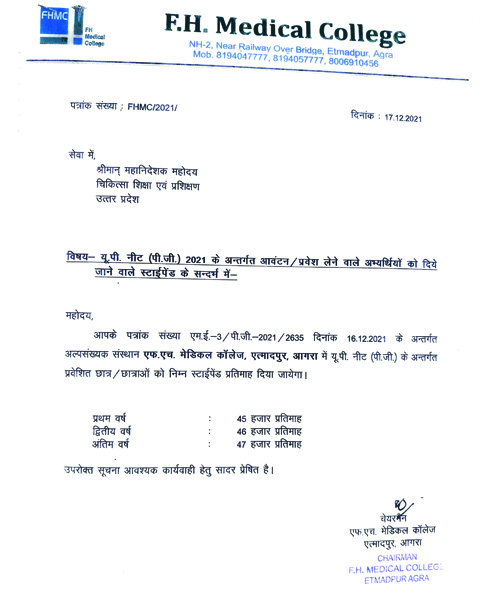 click here